Welcome
Welcome to Derrychrin Primary School – a caring community focused on children and committed to their individual good. At Derrychrin PS we are very proud of our school which has been serving the Parish of Ballinderry since 1866. We are a very well resourced school with an excellent staff who are fully committed to enhancing the academic, emotional, social and spiritual needs of our pupils.
Latest Photographs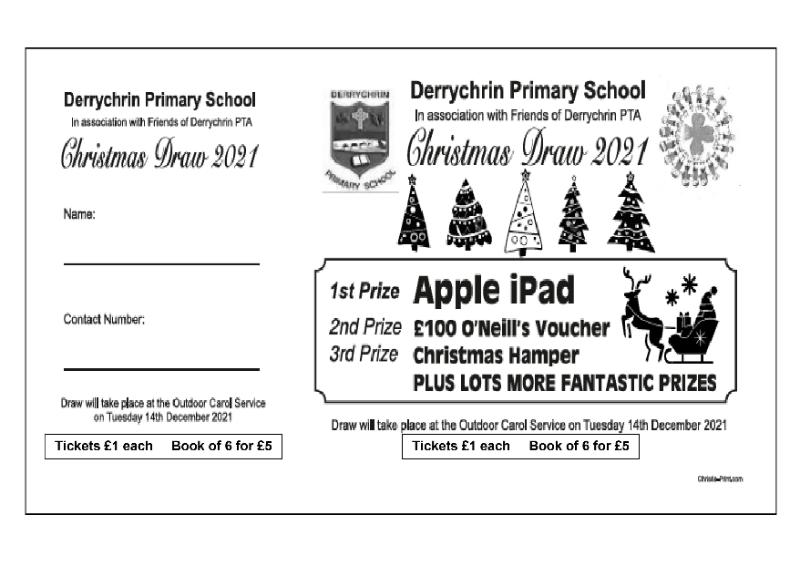 Pupil Absence Information
If a child is absent for any reason, parents/guardians should notifiy the school, explaining their absence by using the 'Report Pupil Absence' button below.

If your child tests positive for COVID or is displaying COVID symptoms, parents/guardians should inform the school immediately using our school email address info@derrychrin.cookstown.ni.sch.uk or contacting the school by telephone on 028 8673 7456
Upcoming Events...
Wednesday, 8th December 2021
Swimming Lessons (Term 1 -Primary 6)
Feast of Immaculate Conception
Tuesday, 14th December 2021
Christmas Carol Service (Outdoor Christmas Carol Service 6:30pm at Ballinderry Shamrocks GAC)
Wednesday, 15th December 2021
Swimming Lessons (Term 1 -Primary 6)
School Christmas Dinner (Pupils wear Christmas Jumpers & Clothing)
Tuesday, 21st December 2021
Parky the Magician (For all pupils. Christmas 'Split The Pot' will take place)
Wednesday, 22nd December 2021
Christmas Holidays (Pupils finish at 11am)
Monday, 3rd January 2022
School Closed
Tuesday, 4th January 2022
School Closed (Staff Development Day)
Wednesday, 5th January 2022
School Open (Term 2: All pupils return after Christmas Holidays)
Please note dates and times are subject to change.
Derrychrin Primary School, 30 Drumenny Rd, Coagh, Cookstown BT80 0BX | Phone: 028 8673 7456